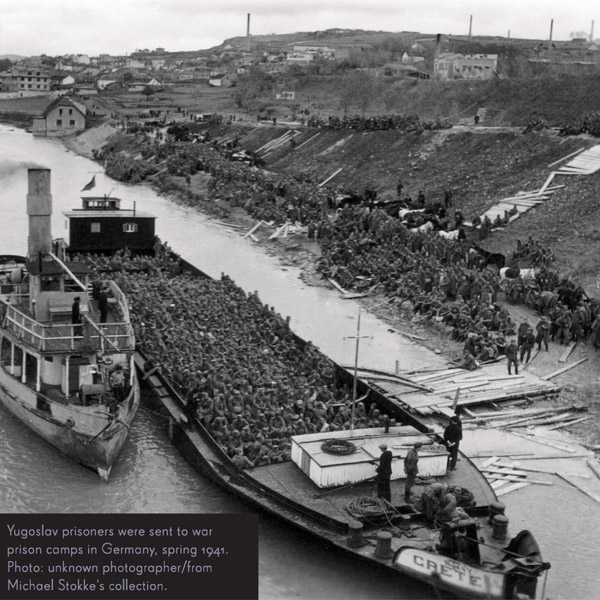 Research project with young people from Belgrade, Narvik and Berlin
In the summer we hit the road. The journey goes through half of Europe: from the Balkans to the North Sea, it's about 4000 kilometres from Belgrade to Narvik. We travel via Berlin, where it all started back then. We don't fly, we travel by bus, train, boat. We are not tourists, but we don't pretend to be the forced labourers either, those forced labourers who were deported from German-occupied Serbia to German-occupied Norway in the summer of 1942. The forced labourers were accompanied by guards – and whose heirs we are on that memorial trip?
First of all, we are young people from three countries researching events that took place in the three countries 79 years ago. Each group starts on the spot: what happened in Belgrade, in Narvik, in Berlin – in terms of Berlin, Narvik, Belgrade? The national part of research starts in the spring. In the summer we meet in Belgrade to travel together to Narvik via Berlin, to the former camps of forced labourers from Yugoslavia. All along the project we make movies: your movies! All of them to contribute for a bigger one that will be made in the autumn. It will be premiered as a stream and a live event in Narvik, Belgrade and Berlin.
We're inviting to participate young people from 18 to 27 years! If you want to join, please contact us. Berlin: info@vajswerk.de, Belgrade: office@cpi.rs, Narvik: post@narviksenteret.no
Rechercheprojekt mit Jugendlichen aus Belgrad, Narvik und Berlin
Im Sommer machen wir uns auf den Weg. Die Fahrt geht durch halb Europa. Vom Balkan bis ans Nordmeer ist es weit; rund 4000 Kilometer sind es von Belgrad nach Narvik. Wir fahren über Berlin; wo alles ausging, damals. Wir fliegen nicht, wir fahren mit dem Bus, dem Zug, dem Schiff. Wir sind dabei keine Touristen, wir tun aber auch nicht so, als wären wir Zwangsarbeiter, die im Sommer 1942 vom deutsch-besetzten Serbien ins deutsch-besetzte Norwegen deportiert wurden. Zu den Zwangsarbeitern gehören Bewacher – sind wir deren Nachkommen, auf einem Memorialtrip?
Zunächst einmal sind wir Jugendliche aus drei Ländern, die eine Geschichte recherchieren, die sich in den drei Ländern vor 79 Jahren abgespielt hat. Jede der drei Gruppe beginnt vor Ort: was geschah in Belgrad, in Narvik, in Berlin – im Hinblick auf Berlin, Narvik, Belgrad? Diese nationale Recherche geschieht im Frühjahr. Im Sommer treffen wir uns dann in Belgrad und fahren gemeinsam von dort über Berlin nach Narvik, zu den ehemaligen Lagern der Zwangsarbeiter aus Jugoslawien.
Die ganze Zeit über entstehen Filme: Ich in meiner Stadt & Auf der Fahrt/am historischen Ort & Ich danach/zurück. Aus diesen 72 Filmen wird im Herbst ein Gesamtfilm: der hat seine Premiere als Stream sowie als Live-Veranstaltung in Narvik, Belgrad und Berlin.
Jugendliche von 18 bis 27 Jahren sind gefragt! Wer möchte mitmachen: Berlin: info@vajswerk.de, Narvik: post@narviksenteret.no, Belgrad: office@cpi.rs