No posts until further notice
30.07.2021 Travel Diary | Day 5
On our fourth day, one hour away from Berlin, the bus had an accident on the highway so we won't carry on with our journey. When there is something new to say, we'll let you know.
29.07.2021 Travel Diary | Day 4
At the beginning of the day, we returned to the Jajinci Memorial Park, as we hadn't enough time to visit the entire park yesterday. It was really important to return with more time to walk around and see the whole place. Dr. Nenad Leibensperger, a historian who guided us, told more about the place of suffering and the monument. The monument, that is an example of socialist aesthetics, was completed in 1988.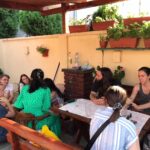 27.07.2021
Travel Diary
| Day 2
We arrived to Serbia in the morning, o
n the border we passed many control checks, and then after some chills if we would get through, we passed and arrived, tired but amazed to see a new city…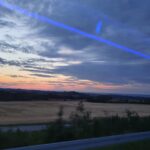 26.07.2021 Travel Diary | Day 1
We've been planning and preparing this trip for a long time, talked about the historical background and the historical personalities who would be the main part of our short films – and now are exited about everything what is going to happen.
Deutsch-norwegisch-schwedisch-russisch-serbisches Recherche-Theater-Projekt über sowjetische und jugoslawische Zwangsarbeiter im deutsch-besetzten Norwegen während des Zweiten Weltkriegs.
Et tysk-norsk-svensk-russisk-serbisk forskningsteaterprosjekt om sovjetiske og jugoslaviske tvangsarbeidere i det tyskokkuperte Norge under andre verdenskrig.
Немецко-норвежско-шведско-русско-сербский театрально-исследовательский проект о советских и
югославских принудительных работниках в Норвегии во время немецкой оккупации.
Nemačko-norveško-švedsko-rusko-srpski projekat istraživačkog pozorišta o sovjetskim i jugoslovenskim prinudnim radnicima u Norveškoj, pod nemačkom opsadom za vreme Drugog svetskog rata.
German-Norwegian-Swedish-Russian-Serbian Research Theatre Project on Soviet and Yugoslav forced labourers in German-occupied Norway during the Second World War.